Submitted by

Tom Miles

on
Finland: Small Scale Gasification Systems
Fredrik Ek, January 22, 2007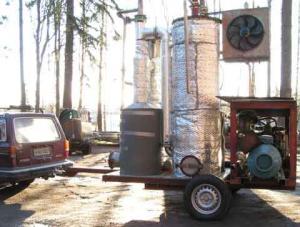 See the link below for pictures of a small scale home made gasification system setup.
http://www.woodgas.fi/voimala/
The gasifier is equipped with effective means for heating the primary air and the fuel and is to be equipped with an automatic fuel feeding system.
The gas cleaning system operates in dry state and the condensate from the cooling system is clear. Air and producer gas is mixed with an innovative automatic gas mixing system.
The fuel used in the system is air dry wood chips made with a Kopo or a Laimet wood chipper. As can be seen on the flame pictures, the unit produces a tar free gas that burns with a pure blue flame. The home made engine-generator combination visible on the pictures is only for initial testing..
More related pictures (mostly wood gas cars) can be seen at:
http://www.ekoautoilijat.fi/tekstit/kalustoesittely.htm
Unfortunately the texts are only in Finnish. I and many other Finnish enthusiasts and professionals have had a lot of fun with wood gas, and we strongly believe that three steps in gasification, presented by Tom Miles in a difficult situation, namely: bankruptcy, divorce and suicide - do not always apply...
Fredrik Ek